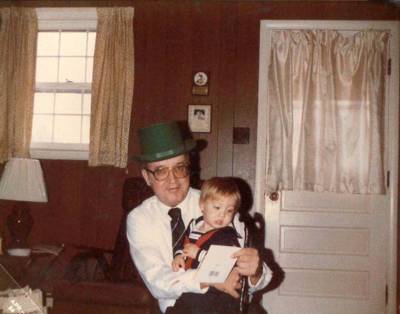 Ruth Carty's husband, Eddie, was Irish. For him, it was more than just his heritage, it was part of who he was – a good father and loving husband who looked forward to Saint Patrick's Day each year.
"He was the outgoing one, with a good sense of humor," Ruth recalls.
Ruth and Eddie were married young; she was 19 years old, and he was 20.
Throughout their lifetime together, they shared many similar interests, including traveling, their church and the beach. Most importantly, they shared love of their four children, seven grandchildren and three (soon to be four) great-grandchildren.
When Eddie was diagnosed with melanoma, then leukemia, Ruth struggled to imagine life without her other half.
"I still think of him every day," she says.
Thankfully, Masonic Village Hospice allowed Ruth and Eddie to have special moments together, regardless of them facing a terminal diagnosis.
Early in their marriage, Ruth and Eddie traveled to Ireland. He found his mother's childhood home, and they both experienced the thrill of driving on the "wrong" side of the road.
"The trip meant a lot to him," Ruth said. "He was 120% Irish, that's the best way I can explain it."
Ruth and Eddie went back to Ireland again later in life.
"He had wanted to go back a third time," Ruth said, "but there was no way he could make it."
When hospice staff discovered Eddie's wish, they put their heads together to plan a special surprise. They knew they couldn't take Eddie to Ireland, but with Saint Patrick's Day approaching, they decided to plan a special dinner for Eddie and Ruth. Favorite dishes were ordered from the couple's go-to Irish pub where they would celebrate Saint Patrick's Day with their friends year after year.
"I had no idea it was happening," Ruth said. "I just knew I was going to eat with him."
Staff dressed Eddie in green clothing they chose from his closet and decorated the room. Eddie's doctor gave permission for him to have a small cup of beer, which hospice staff colored a festive green.
"This happened at a time when he wasn't doing very well," Ruth recalled.
"He wasn't really eating, but he did eat some of that dinner. Eddie died two weeks later. Hospice knew what they were doing. I can't say enough good things about them, and I can't get over how much they did for us."
Ruth's journey with Hospice didn't end with Eddie's passing. Two years later, she and her children remain close with staff, specifically bereavement coordinator Heidi Young.
"I can tell Heidi things," Ruth said. "She's really special and easy to talk to. I feel like she just understands. I couldn't always tell my children or my friends how I was really feeling because I didn't want them to worry, but I could tell Heidi."
Each year, Ruth, along with at least one of her children, attends hospice's garden party, which is a chance for them to enjoy an evening out with live entertainment and food. It's also an opportunity for them to meet other hospice families and relate to a guest speaker's personal journey with Masonic Village Hospice.
"The first year we went, we sat down at one of the tables," Ruth said. "We realized the staff put pictures of families with their loved ones as the centerpieces. We looked at our centerpiece, and there was Eddie and me. We took it as a sign.
"I tell my kids, 'I pray I never need hospice, but if I do, choose Masonic Village Hospice,'" Ruth said. "Each and every one of them is a saint."